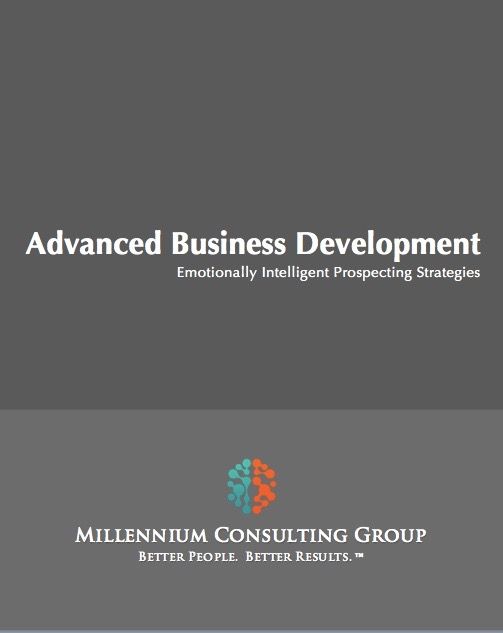 Advanced Business Development
Course Objective - Provide participants with an advanced understanding of the financial services new business origination process. Outline more than 50 strategies for referral, networking and COI based business growth.
New business opportunities from existing and prospective clients are an essential element in the formula for success of any financial institution. New client acquisition through referral development, COI marketing and networking are always three of the primary areas of strategic focus for financial executives. Our Advanced Business Development program is laser focused on the prospect origination and referral creation processes. Specifically, the program introduces participants to the most effective referral, networking and COI-based growth strategies available to the financial professional.
Topics discussed in the Advanced Business Development course include:
Understanding Level 1, 2 and 3 Performance
Self Awareness/Self Management
Social Awareness/Relationship Management
EQ And Business Development
The CARE Model
Performance Impact Of Networking and Referral Development
Tailoring Your Approach To Match Personality & Sophistication
COI Growth Strategies
Referral & Introductory Conversations
Networking Event Skills
Social Business Development
Existing Client Expansion
Modern B2B Cold Calling Fundamentals
Modern B2B Cold Calling Call Prep
Modern B2B Cold Calling Situations
Modern B2B Cold Calling Conversations
How to Implement and Sustain
All Millennium courses are tailored for delivery to match the strategy, client demographic, product mix and skill development needs of each client. All Millennium courses are available for delivery via instructor-led classroom session, webinar and/or train-the-trainer sessions.
90-Minute Keynote Engagement – $15,000 USD
½-Day-Courses – $595 USD per-participant
1-Day-Courses – $950 USD per-participant
2-Day-Courses – $1,250 USD per-participant
3-Day-Courses – $1,500 USD per-participant
3-Day Train-The-Trainer Course - $10,000 USD per-participant
Single 90-Minute Webinar - $3,750 USD
10 Webinar Talk-Block - $35,000 USD