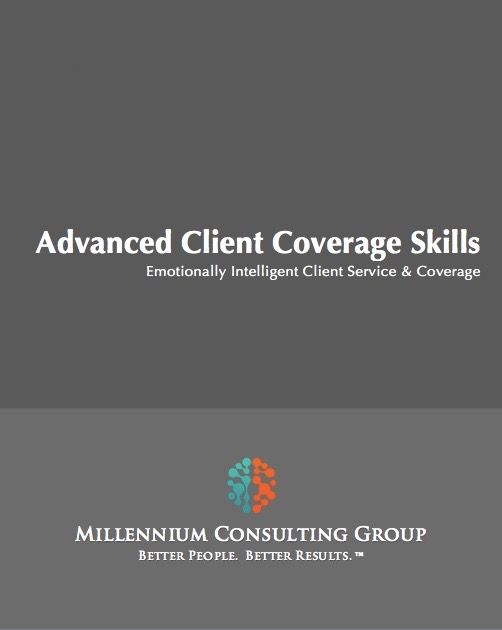 Advanced Client Coverage Skills
Course Objective - Introduce participants to financial relationship specific client service and client coverage best practices. Provide participants with transactional and non-transactional strategies for client expansion and retention.
Most of our clients are open to new ideas and idea pitches from competitors. Covering and servicing existing clients can be the difference between an existing client up-sell or referral and an existing client exit. Coverage and service become factors during transactional and non-transactional times. Elite financial professionals are masters of client service/coverage. They focus their efforts on strategies to position themselves, and their organization, as indispensable and irreplaceable advisors to the client.
Topics discussed in the Advanced Client Coverage Skills course include:
Understanding Level 1, 2 and 3 Performance
Self Awareness/Self Management
Social Awareness/Relationship Management
EQ And Client Service/Coverage
The CARE Model
Transactional Client Service
Non-Transactional Client Service
Exceeding Expectations and Buffer Zones
The Wow Factor & The Extra Mile
Putting It In Writing
Entertainment & Social Events
Moving From Transactional Provider To Trusted Advisor
The Personal Barrier
Using Client Coverage As A Way To Win New Clients
How to Implement and Sustain
All Millennium courses are tailored for delivery to match the strategy, client demographic, product mix and skill development needs of each client. All Millennium courses are available for delivery via instructor-led classroom session, webinar and/or train-the-trainer sessions.
90-Minute Keynote Engagement – $15,000 USD
½-Day-Courses – $595 USD per-participant
1-Day-Courses – $950 USD per-participant
2-Day-Courses – $1,250 USD per-participant
3-Day-Courses – $1,500 USD per-participant
3-Day Train-The-Trainer Course - $10,000 USD per-participant
Single 90-Minute Webinar - $3,750 USD
10 Webinar Talk-Block - $35,000 USD