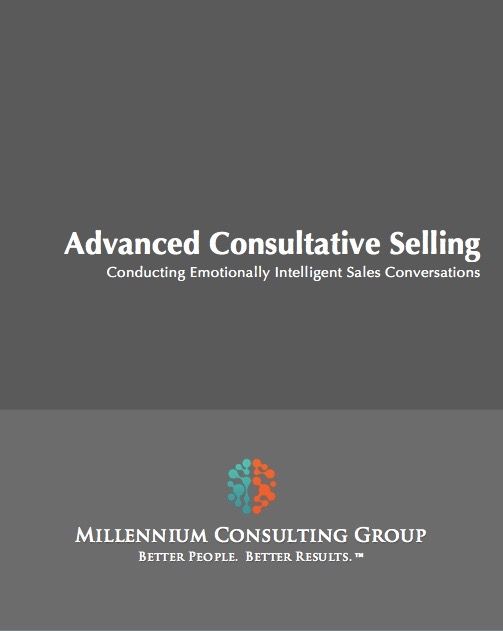 Advanced Consultative Selling
Course Objective - Provide participants with a comprehensive and systematic approach for conducting consultative financial conversations. Provide fundamental consultative selling tools, tactics and strategies to fuel all stages of the the financial sales interaction.
The days of "reactive product dump" sales pitches are almost a thing of the past. Financial professionals must add true consultative value and become a proactive trusted advisor if they hope to compete and win. No matter the client size or type (governments, corporate, commercial, institutional, high-net-worth and affluent) all demand an advice-based relationship with their financial provider. Our Advanced Consultative Selling program is designed to provide the perfect foundation for a world-class consultative sales experience. This program was designed to introduce participants to the most effective best-practices associated with each phase of the process. The step-by-step approach presented is easy to understand, easy to implement and packed with practical techniques and tools.
Topics discussed in the Advanced Consultative Selling course include:
Understanding Level 1, 2 and 3 Performance
Self Awareness/Self Management
Social Awareness/Relationship Management
EQ & The Consultative Selling Model
The CARE Model & Emotionally Intelligent Selling
Emotionally Intelligent Rapport Building
Emotionally Intelligent Diagnostic Questioning
Emotionally Intelligent Listening
Emotionally Intelligent Solution & Idea Creation
Emotionally Intelligent Presentations
Emotionally Intelligent Advice & Mini-Pitches
Emotionally Intelligent Objection Resolution
Emotionally Intelligent Asking For The Business
Emotionally Intelligent Closing
Emotionally Intelligent Negotiating
Emotionally Intelligent Client Service
All Millennium courses are tailored for delivery to match the strategy, client demographic, product mix and skill development needs of each client. All Millennium courses are available for delivery via instructor-led classroom session, webinar and/or train-the-trainer sessions.
90-Minute Keynote Engagement – $15,000 USD
½-Day-Courses – $595 USD per-participant
1-Day-Courses – $950 USD per-participant
2-Day-Courses – $1,250 USD per-participant
3-Day-Courses – $1,500 USD per-participant
3-Day Train-The-Trainer Course - $10,000 USD per-participant
Single 90-Minute Webinar - $3,750 USD
10 Webinar Talk-Block - $35,000 USD