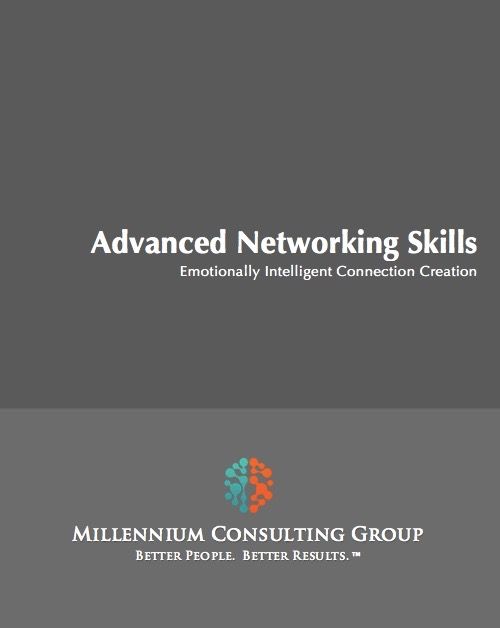 Advanced Networking Skills
Course Objective - Provide participants with an advanced set of networking tools that will allow them to make new connections and, ultimately, convert those connections into real business opportunities.
One of the common characteristics of financial industry top producers is a high networking IQ. Financial professionals with a high networking IQ have the ability to build and maintain a powerful network of business and personal connections. And, they are expert at converting those connections into actual business opportunities. In the age of technology the term networking means a lot more than simply attending industry events. Participants learn how to identify their best networking opportunities (events, colleagues, alumni, communities, clients, associates etc.). Participants will also learn strategies and tactics that will allow them to capitalize on those opportunities and transform their network into a profit center.
Topics discussed in the Advanced Networking Skills course include:
Understanding Level 1, 2 and 3 Performance
Self Awareness/Self Management
Social Awareness/Relationship Management
EIQ And Networking
The CARE Model
The Network As A Profit Center
Networking Events
Social Networking (LinkedIn)
Alumni Networking
Personal Networking
Creating Introductions
Cold Introductions
Dealing With Bad Introductions/Connections
Typical Mistakes (Events & Social Networking)
Converting Connections Into Opportunities
How to Implement and Sustain
All Millennium courses are tailored for delivery to match the strategy, client demographic, product mix and skill development needs of each client. All Millennium courses are available for delivery via instructor-led classroom session, webinar and/or train-the-trainer sessions.
90-Minute Keynote Engagement – $15,000 USD
½-Day-Courses – $595 USD per-participant
1-Day-Courses – $950 USD per-participant
2-Day-Courses – $1,250 USD per-participant
3-Day-Courses – $1,500 USD per-participant
3-Day Train-The-Trainer Course - $10,000 USD per-participant
Single 90-Minute Webinar - $3,750 USD
10 Webinar Talk-Block - $35,000 USD