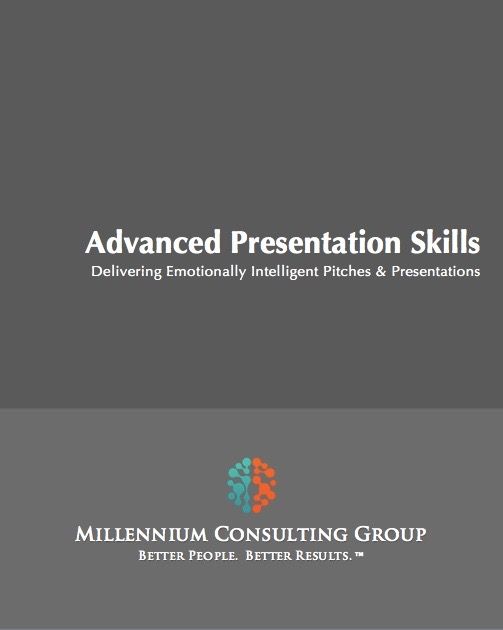 Advanced Presentation Skills
Course Objective - Provide participants with a best-practice-based toolbox for delivering highly effective presentations, speeches and one-to-one pitches.
Great opportunities often fall apart during less than stellar presentations. Financial clients are often confused, turned-off or bored by robotic product and information dumps. Having the ability to create and deliver a clear and concise message is an integral skill for all financial professionals. Sometimes your pitch is delivered in an elevator, other times it is in a boardroom and sometimes it is in a letter or through email. Getting your message across can be the difference maker between winning a new client and time wasted. Instruction is focused on how the best think about, build and deliver high impact presentations and messages.
Topics discussed in the Advanced Presentation Skills course include:
Understanding Level 1, 2 and 3 Performance
Self Awareness/Self Management
Social Awareness/Relationship Management
EQ And Presentations
The CARE Model And Presentations
Remember When Slides Were New & Cool
Balls, Strikes And Wild Pitches
Top 10 Client Pitch Turn Offs
Top 10 Client Presentations Wish List
The Anatomy Of A Perfect Pitch
Developing Powerful And Simplified Messages
The Importance Of Message Packaging
The First Pitch - Opening The Game
Making The Delivery Memorable
Avoid The Pitch-Book Robot Trap
Using Stories & Story Selling
Involving Participants & Interaction
The Final Pitch-Closing The Game
The Pitch After The Pitch
How To Implement & Sustain
All Millennium courses are tailored for delivery to match the strategy, client demographic, product mix and skill development needs of each client. All Millennium courses are available for delivery via instructor-led classroom session, webinar and/or train-the-trainer sessions.
90-Minute Keynote Engagement – $15,000 USD
½-Day-Courses – $595 USD per-participant
1-Day-Courses – $950 USD per-participant
2-Day-Courses – $1,250 USD per-participant
3-Day-Courses – $1,500 USD per-participant
3-Day Train-The-Trainer Course - $10,000 USD per-participant
Single 90-Minute Webinar - $3,750 USD
10 Webinar Talk-Block - $35,000 USD