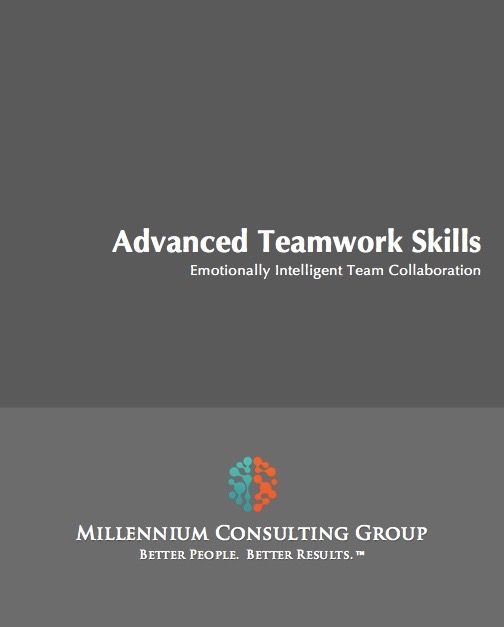 Advanced Teamwork Skills
Course Objective - Support participants in their efforts to create a collaborative, cooperative and committed team environment. Provide an understanding of and strategies for selling the team and positioning the team as a product and a key differentiator.
How did the most successful financial institution in the history of the industry become the most successful financial institution in the history of the industry? They worked together seamlessly while collaborating on client ideas. Also, they became incredibly skilled in the discipline of team selling. In essence, they mastered the art of selling the people on their team as their most valuable product. The best of the best understand that clients appreciate a team approach and team camaraderie. They understand that clients view deep and well connected teams to be a value add for their own family or organization. Knowing, working with and selling your team sends a message of unity and commitment. Most clients want to be serviced by a team led by an individual and not a "lone ranger" with little regard for his/her team and organization.
Topics discussed in the Advanced Teamwork Skills course include:
Understanding Level 1, 2 and 3 Performance
Self Awareness/Self Management
Social Awareness/Relationship Management
EQ And Team Selling
The CARE Model
Typical Mistakes Made To Weaken The Team
Strategies For Strengthening The Team
The Team As A Product
Team Moments Of Truth
How The Best Team In The Business Did It
How to Implement and Sustain
All Millennium courses are tailored for delivery to match the strategy, client demographic, product mix and skill development needs of each client. All Millennium courses are available for delivery via instructor-led classroom session, webinar and/or train-the-trainer sessions.
90-Minute Keynote Engagement – $15,000 USD
½-Day-Courses – $595 USD per-participant
1-Day-Courses – $950 USD per-participant
2-Day-Courses – $1,250 USD per-participant
3-Day-Courses – $1,500 USD per-participant
3-Day Train-The-Trainer Course - $10,000 USD per-participant
Single 90-Minute Webinar - $3,750 USD
10 Webinar Talk-Block - $35,000 USD