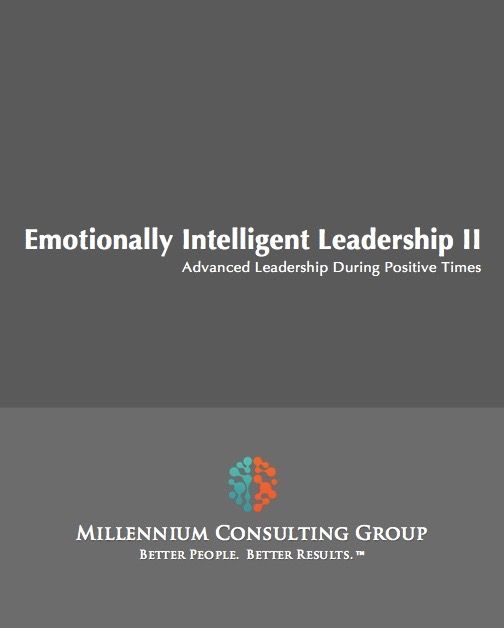 Emotionally Intelligent Leadership 2
Course Objective - Provide leaders with skills, strategies and tactics for leading teams and individuals through positive periods, encounters and situations. Workshop focuses on motivation, inspiration, engagement, mentoring and coaching during periods of great success and abundance.
When you are doing well arrogance and complacency are the twin demons dancing at your doorstep. Times of great success and prosperity can also be times of great risk for an organization. Unfortunately, during times of great success active leadership can sometimes fall out of focus. The best in the business recognize the opportunities for growth and preparation presented by successful periods and, they capitalize. They use these times to build skill, discipline, loyalty, culture and team spirit. They use these times to put even more distance between themselves and their competition.
Topics discussed in the Emotionally Intelligent Leadership II course will include:
Understanding Level 1, 2 and 3 Performance
Self Awareness/Self Management
Social Awareness/Relationship Management
EQ And Leading Through Positive Times
The CARE Model
Mistakes Made During Periods Of Great Success
The Dangers Associated With Times Of Great Success
Arrogance & Complacency As The Twin Demons
Leading And Following
Motivating & Celebrating
Coaching & Counseling
Mentoring & Growing
Keeping The Organization On Track
Grounding Individuals And The Organization
How to Implement and Sustain
All Millennium courses are tailored for delivery to match the strategy, client demographic, product mix and skill development needs of each client. All Millennium courses are available for delivery via instructor-led classroom session, webinar and/or train-the-trainer sessions.
90-Minute Keynote Engagement – $15,000 USD
½-Day-Courses – $595 USD per-participant
1-Day-Courses – $950 USD per-participant
2-Day-Courses – $1,250 USD per-participant
3-Day-Courses – $1,500 USD per-participant
3-Day Train-The-Trainer Course - $10,000 USD per-participant
Single 90-Minute Webinar - $3,750 USD
10 Webinar Talk-Block - $35,000 USD