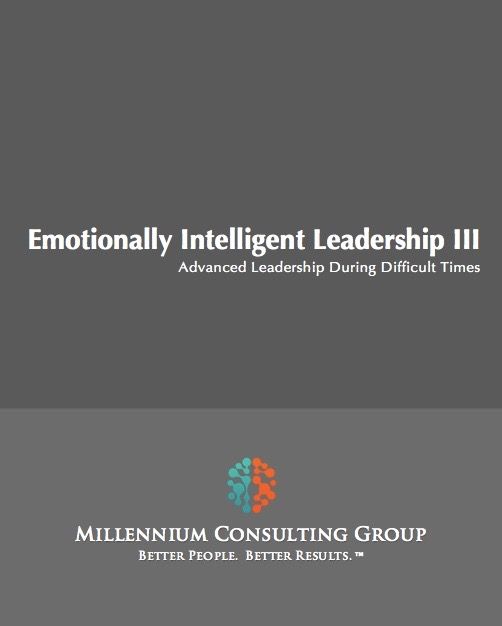 Emotionally Intelligent Leadership 3
Course Objective - Provide leaders with skills, strategies and tactics for leading through periods of great challenge, pressure and stress. Workshop will focus on motivation, inspiration, engagement, mentoring and coaching during periods of struggle.
While periods of great success and prosperity can breed arrogance and complacency, periods of great struggle can breed fear, despondence and uncertainty. During times of great struggle a great leader can be the difference between an organization making it through and that same organization reaching a point of total failure. During times of great struggle and challenge communication, transparency, strength and connection are critical. Keeping people motivated, inspired, protected, empowered and driven in the face of a daunting challenge is a core attribute of the elite leader.
Topics discussed in the Emotionally Intelligent Leadership III course will include:
Understanding Level 1, 2 and 3 Performance
Self Awareness/Self Management
Social Awareness/Relationship Management
EQ And Leading Through Positive Times
The CARE Model
Mistakes Made During Periods Of Great Struggle
Opportunities Presented During Times Of Struggle
Poise Under Pressure/Strength Under Fire
Making Tough Decisions/Delivering Tough Messages
Fear And Despondency
When Loyalty Fades
Leading And Following
Motivating & Celebrating
Coaching & Counseling
Rallying The Troops
Mentoring & Growing
Keeping The Organization On Track
Grounding Individuals And The Organization
How to Implement and Sustain
All Millennium courses are tailored for delivery to match the strategy, client demographic, product mix and skill development needs of each client. All Millennium courses are available for delivery via instructor-led classroom session, webinar and/or train-the-trainer sessions.
90-Minute Keynote Engagement – $15,000 USD
½-Day-Courses – $595 USD per-participant
1-Day-Courses – $950 USD per-participant
2-Day-Courses – $1,250 USD per-participant
3-Day-Courses – $1,500 USD per-participant
3-Day Train-The-Trainer Course - $10,000 USD per-participant
Single 90-Minute Webinar - $3,750 USD
10 Webinar Talk-Block - $35,000 USD