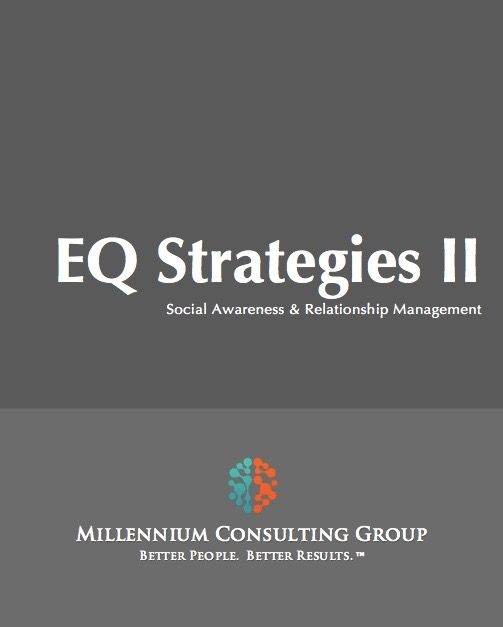 EQ Strategies 2
Course Objective - Transform the theory of EQ into a practical toolbox participants can employ on a day-to-day basis. Instruction focuses on how to read personal styles and situations with an emphasis on learning to adapt behaviors to increase the likelihood of successful interactions.
One of the key characteristics of the successful financial professional is a high degree of self awareness. But, the best-of-the-best have also mastered the ability to read the personal style and emotional state of the person they are working with. Additionally, they are adept at reading tone and body language. They use the data they collect through observation and interaction to adapt and shape their approach. By reading and adapting, the best in the business ensure stronger interactions, connections and, ultimately, deeper relationships. This ability translates into a higher probability of situational success, more business won and a healthier franchise.
Topics discussed in the EQ Strategies II course include:
Understanding Level 1, 2 and 3 Performance
Self Awareness/Self Management
Social Awareness/Relationship Management
Basic EQ Refresher
Understanding The CARE Model
Personality Awareness
Situational Awareness
Tone Awareness
Body Language Awareness
Style Awareness
Generational Awareness
Professional Awareness
Geographic Awareness
Sophistication Awareness
Educational Awareness
Experiential Awareness
Cultural Awareness
Gender Awareness
Personal Interest & Hobby Awareness
Using CARE To Transition Awareness Into Behavior
How to Implement and Sustain
All Millennium courses are tailored for delivery to match the strategy, client demographic, product mix and skill development needs of each client. All Millennium courses are available for delivery via instructor-led classroom session, webinar and/or train-the-trainer sessions.
90-Minute Keynote Engagement – $15,000 USD
½-Day-Courses – $595 USD per-participant
1-Day-Courses – $950 USD per-participant
2-Day-Courses – $1,250 USD per-participant
3-Day-Courses – $1,500 USD per-participant
3-Day Train-The-Trainer Course - $10,000 USD per-participant
Single 90-Minute Webinar - $3,750 USD
10 Webinar Talk-Block - $35,000 USD
20 Webinar Talk-Block - $65,000 USD